Ye are the light of the world...


A city that is set on a hill cannot be hid. Neither do men light a candle and put it under a bushel, but on a candlestick; and it giveth light unto all that are in the house. Let your light so shine before men, that they may see your good works, and glorify your Father which is in heaven.
-Matthew 5: 14-16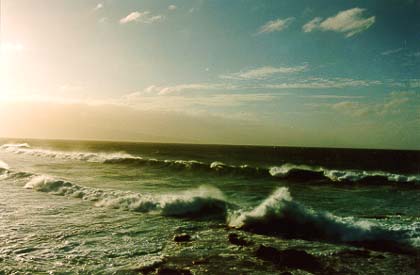 When I arrived at work this morning, I was pleased to see an envelope under my monitor. "It's not my birthday and it's not Boss' Day", I thought to myself. So what could it be? Before I even opened the envelope, I tried to think of 'occasions' that would preempt such a gesture. Finally, I decided to open it. It didn't take long for the tears to come. The card read as follows:


"I was so excited to hear that I had landed a new job - exactly what I wanted, a paralegal in a corporation. Aha, I soon became overwhelmed and was really down. I was looking at things from a pessimistic perspective, a viewpoint I hadn't used in a long time. I hardly recognized myself. Then one day, I heard a cheerful voice talking in a nearby office. When the room was quiet, I asked, who was that? I was told, "Precious McCloud". I began to look forward to seeing the bright light exuding from this powerful person. A gift.

I received a gift - just from her presence in my vicinity. This light reminded me that I'm supposed to feel good.

I'm supposed to be happy.

I knew that all along, but had temporarily forgotten how good it feels to feel good.
What a shining example of living life and loving it – right before my eyes.

A reminder that one person can make a difference, even by something so simple as walking through a room or sharing a smile.

I have also been that cheerleader.

Thank you, my friend for reminding me."

The author of these beautiful sentiments is a woman who works in another department and on another floor. Suffice it to say that to that point, my interactions with her were in passing, at best. As I read her card, I was reminded that each and every day, we impact those around us – not just our family and friends. I was so filled by her words that I had to go into a conference room to pull myself together. I felt God speak to me through her and I wanted to be alone in His presence. How could such emotion be directed toward me...from someone I considered a stranger?

Was this that 'light' again?

It took me a few days to thank her or even acknowledge her card...I found it difficult to come up with a response that I felt would adequately match the seed she'd watered. How could she, through her random act of kindness connect with my very soul? I had to admit that even in our good morning and have a nice weekend exchanges, I'd been a benefactor of her positivity and found myself genuinely wanting to move beyond those niceties. She no longer felt like a stranter to me; but some who (like me) had a keep understanding of their purpose. I think that's why I was so touched by her words.

We are drawn to that which we are...

"I began to look forward to seeing the bright light exuding from this powerful person...this light reminded me that I'm supposed to feel good".
I read those words over and over again but not for self-serving reasons. I read them repeatedly because they sounded like echoes from other people with whom I'd interacted to that point. How could she know, though? She doesn't know anything about my background, my family and why joy and cheerfulness are at the root of everything I do. Light, even in its most simple form is very powerful. When it appears darkness disappears - instantly!

As I read her card, images of my dad entered my mind and it was as though I was hearing his voice through my pre-teen ears -- saying things that he still says to me to this day.

He prophesied over my life as a young child and he has always spoken to me about this 'light". Through the encouragement from his lips, I've always felt that I was special and that my existence was purposed. I've always believed that there was 'good' that I was supposed to share with others simply because of how God designed my heart to feel a genuine sincerity towards people.
The greatest lesson I learned from my mom is that we are not to think too highly of ourselves. Everyone needs help at one point or another and if we are ever in a position where we can give, we should do it - with no thought of recognition or gain. Just do it because God commands us to and He will see to it that every need will be met.


My Supervisor at my first place of employment after college also spoke to me about this 'light'.

She had the unmitigated gall (pretty strong language, hunh?) to tell me that there was nothing I could do about it and since 'it' had such a profound impact on people – they came to expect it. She went as far as to reference shining my light as a responsibility I had to accept.

Well, you can imagine what my 22-year old response was (in thought): "Whatever!

If I don't feel like smiling, I'm not going to…and if I don't want to speak up in the meeting, I don't have to.

Why can everyone else have a bad day, come in here with an attitude and frown at everyone but let me – just for one day – be a little quiet and I've got to get called into a room about my attitude!"

When I did speak, I told her

that shining my light was not something I had to do for other people and I was offended by the mere notion of what she was implying.

I did not like being singled out and couldn't understand why I was always expected to exude such positivity. If I had it, why couldn't others get it for themselves?

I felt so much better after getting that off my chest.

I was tired of people expecting me to make them smile and be so doggone bright and cheery. Hmph!

"I began to look forward to seeing the bright light exuding from this powerful person...this light reminded me that I'm supposed to feel good".


I left the conference room with a smug expression on my face. It was one of my first opportunities to speak up for myself and for my so-called rights! How dare she encourage me to 'let my light shine!' After I was satisfied that I'd given her a piece of my little young mind, I returned to my desk like a cocked pistol – ready to fire off in a moment's notice. Unfortunately for me, I didn't recognize that she was speaking from a great place of wisdom.


I didn't receive her words because at that time, I didn't understand the responsibility that God (not man) had placed before me.

I now know that I was singled out at birth to reflect and transmit God's magnificent light and have been given a specific mandate.

Not understanding this much earlier in life kept me from embracing this light as the jewel I believe it is today.


For the next few years, I struggled with this 'light' and as ironic as it may sound, I felt it at times, to be a dark cloud over me; an albatross even.

There were times where I felt it pushed people away,

"There is nobody on this earth that is that happy all of the time", a few people said to me.

"Why do you have to smile so much"? or "You're a little too happy for my taste; don't you ever have a bad day?" O
n the other hand, I received confirmation after confirmation that there was something about me that made those around me feel better, dance harder, dream bigger and reach farther.

How can this 'light' be the source of both consternation and inspiration?
I cannot lie; I was confused by this for many, many years.


When I recall some of the relationships that ended with those I once considered friends, I now understand that pruning is a necessary part of maintaining balance. Some branches just aren't supposed to be attached to my tree.

Also, maturity has taught me not to lament over dead branches, but to rejoice for the beauty that awaits me through the people who God wants to assign to me - people who value my worth, appreciate the sincerity of my actions and consider the songs of my heart a beautiful melody.

When I had the courage to look inward,
I realized there was no real struggle and God was waiting patiently on me to value in myself the things He planted that would add value to the lives of others. I know God drapes me with His power and through Him, I have that same power to calm a restless spirit, ease hurt or encourage downtrodden hearts.


| | |
| --- | --- |
| Today, I accept this light and walk assuredly in that which God has placed my hands to do. I no longer buck against it, make excuses for it or offer apologies. I've had a lifetime of experiences to show me that I've been chosen to make a difference; to be a light...and I plan to do just that. | SMW Photography, Burlington NC (Martin & Stephanie Williams) |
To my friend TC: You inspired this story and your decision to sow into my life through your beautiful card was the catalyst for me to work on the book that I now know I must complete; which will include stories that must be told. Your random act of kindness won't soon be forgotten. It shouldn't surprise you, but I saw the same qualities in you that you saw in me. Think about walking along and seeing your image flash in a window or a mirror. It causes you to pause and look, right? There was something that you recognized - something familiar; not foreign. I was, you see, a reflection of you! Thank you for sharing your light with me...